Netflix's latest drama Mask Girl has reached no.2 on Netflix's Top 10 of Non-English TV and it surpassed 2.8 million views, which accumulated 3 days after the release. The series showed in the Top 10 list of many countries like The Philippines, Japan, South Korea, Hong Kong, Vietnam and Indonesia. Fans are excited that many people are watching the suspense thriller series that have them hooked from episode 1.
Mask Girl depicts the tumultuous journey of Kim Momi, an average office worker plagued by appearance insecurities. By night, she hides behind a mask as an Internet broadcast jockey (BJ) and gets entangled in unexpected events. The show proved its popularity by reaching No. 2 on Netflix's TOP 10 within three days of its launch, recording 2.8 million views. As of the 23rd, Mask Girl has made the TOP 10 list in 14 countries, including South Korea, Japan, Hong Kong, Indonesia, the Philippines, and Vietnam.
With its one-of-a-kind premise, exclusive triple-casting, and exceptional direction, Mask Girl is receiving rave reviews from both domestic and international media and viewers.
"Mask Girl is fascinating because we have absolutely no idea where the story is going after Episode 1, and we want to find out. In short, it keeps you hooked." (MM News). "It's fresh and original" (IMDb). "Momi's twisted life unfolds unpredictably, elevating the engagement" (Dailian Jang Su Jeong). The reviews highlighted the whirlwind development and creative plot.
Further accolades include the following: "The early immersion of Lea Han Byeol, the pushing momentum of Nana, and the overwhelming atmosphere by Go Hyun Jung's expression and pronunciation" (columnist Jeong Yu Mi). "Ahn Jae Hong's transformation of a 'hater' character into something 'excellent' with his 'superior' performance" (Sports Chosun Mun Ji Yeon). "You may find yourself repeatedly pressing the 'next episode' button, addicted to the thrilling taste this work offers" (JTBC News Park Jung Sun).
Mask Girl director Kim Yong Hoon delved into three actresses who play the same Kim Momi role in his interview.
About casting Lee Han Byeol, Nana, and Go Hyun Jung to play Kim Momi, he explained, "After committing murder, Momi would naturally be different. And then, after spending years in prison, she feels like another Momi altogether. I wanted to express her differently from the Momi we've seen earlier on in the story."
The show's dance sequences provided unique challenges and surprises. Speaking of Lee Han Byeol's dance, Kim said, "Momi had to be a good dancer as per the script. Lee Han Byeol couldn't perfectly execute the dance, so I had to think of a dance double who could nail it." He laughed, recounting how Nana's dance vibe was so unique, her being a K-pop idol previously, that he had to re-shoot it. "(The opening dance) was a blend of Nana, the dance double, and Lee Han Byeol's leg splitting. I mixed it appropriately."
When questioned about the nude scene, Kim confirmed, "Yes, it was Nana who played the scene herself."
He also recounted unexpected moments on set that left him in awe. "There's a scene where Nana smiles slyly after a black-and-white fight sequence with a bloodied face. The script only read "Moni smiles," but when Nana performed it, I thought to myself, 'Wow, she's crazy' (laughter). It was a feeling that made me greatly admire her."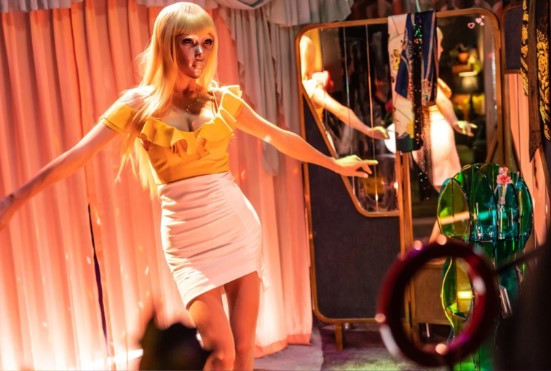 Kim was full of praise for Go Hyun Jung, who stunned with her dedication to physical stunts. "She did actions that a stunt actor would normally do, like smearing blood on her face, putting her face on the asphalt, and colliding with a wall. Almost 80% of it was her own performance. It worried me to the point of thinking, 'Isn't she going to get hurt falling like that?'"
He then talked about her yearning for creative breakthroughs. "She wanted to show, to challenge. I sensed a desire to break free from the habits she had fallen into, to overcome her similar performances, and continually present something new."
 Stay tuned to get more updates on K-dramas and movies.
Also Read: Rowoon and Jo Bo Ah's electrifying chemistry takes center stage in JTBC's
Source link