White-collar boxing. In Formula 1. Could you imagine? Netflix's Drive to Survive has already added so much drama to this sport. What's more? If you're wondering what white-collar boxing is, it's a form of boxing where people in white-collar professions train to fight at specific events held just for them. And if you're wondering how the concept of combining F1 and boxing came into being, Drive to Survive's very own Guenther Steiner put it forth. 
America's Favorite Video Today
Apart from being Haas' Team Principal, Steiner is now also an author. That's right. Earlier this year, he published Surviving to Drive, a wordplay on the show that made him one of the most well-known characters in motorsport. As a Team Principal, though, he can't really put his drivers in harm's way by making them engage in boxing matches with other drivers. So he suggested team principals take the ring and fight it out. Are you a fan yet? If not, his match-ups would sure make you one.
Who'll come out on top: Toto Wolff or Zak Brown?
ADVERTISEMENT
Article continues below this ad
It's become a well-known fact that Steiner loves smashing doors to take his anger out. While he smashes doors, Toto Wolff likes punching his fist or throwing his headphones on his table in the Mercedes garage. Zak Brown, on the other hand, is usually the picture of calm every time the camera pans to him. But if push comes to shove, there's no doubt he'd stand up for McLaren, even though he's not the team principal. 
On the TG1F Podcast, co-hosts Kate and Nicole brought up Steiner's suggestion and asked him who he'd like to fight. He replied, "Toto." As entertaining as it would be to watch them go against each other, they asked him who else he would want to see fight each other. The Netflix star, who's taken a liking to drama, said, "Christian [Horner] and Zak. That could be fun." He's referring to how Brown sent a letter to the FIA stating Red Bull "cheated" by exceeding the cost cap in 2021. Tensions arose between the two teams' spokespersons, and as per Steiner, what better way than to let it all out through fisticuffs? The conversation drifted to Nicole and Kate discussing a possible fight between Wolff and Brown.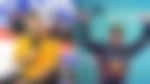 9 Months After Starting a Civil War With "Cheating" Allegations, Zak Brown Bows
Down to Max Verstappen's Robotic Dominance
"When we were talking about Toto and Zak, we thought, 'Toto definitely has the height, but we think we could underestimate Zak and his ability to be quick. So I think it would be pretty evenly matched. But I think Toto ultimately is going to come out on top. We've seen too many videos of him working out to not know how strong he is," they said. Steiner hilariously added, "Correct. I think he wins. And we know how much Zak works out. Basically nothing." Surprisingly, Kate and Nicole weren't the first ones to bring up a potential fight between Brown and Wolff.
Zak Brown challenged Toto Wolff to a fight in Vegas
Formula 1 is returning to Las Vegas after 39 years, and one of the many things Vegas is known for is the galore of boxing events that happen there. Considering Zak Brown is an American, he's more than thrilled to go to Vegas and race cars there, but that's not it. After the Australian GP, McLaren got a surprisingly okay result considering its car's performance at the beginning of the season, he challenged Wolff to a boxing match in Vegas in the media pen. 
ADVERTISEMENT
Article continues below this ad
Zak Brown has challenged Toto Wolff to a boxing match in Las Vegas ahead of the inaugural race later this year.

Who you got? 🥊 https://t.co/jGrhhPyOM0

— ESPN F1 (@ESPNF1) April 4, 2023
Providing feedback will help us make your experience better.
Enjoyed Your Read? Let us know how likely you are to recommend EssentiallySports to your friends!
Co-hosts of the Inside Piranha Club Podcast, Rebecca Clancy and Ben Hunt, went back and forth over who would win. Hunt said, "I would love to see Toto in a ring with Zak Brown in Las Vegas. That would probably be better than the race, actually." Clancy replied, "My money is on Toto. I reckon he's got longer reach." Hunt added, "Yeah, long reach. Probably fitness will come into it. But would then Zak be a bit of a dirty fighter? I mean depends on the rules, doesn't it? Depends on who the referee is."
ADVERTISEMENT
Article continues below this ad
Watch This Story: Christian Horner Sparks Rivalry: Toto Wolff's F2 Remark Refuted
Do you like Guenther Steiner's idea of having a white-collar boxing clash for team principals? Who will come out on top in a fight between Toto Wolff and Zak Brown?