Whether you want a massive TV without breaking the bank or a TV that comes out of the box ready to stream content, you can't go wrong with a Fire TV. Amazon's Fire TV interface is built-in and features applications for many streaming services, and one particular model from Toshiba is seeing a massive discount.
The Arena Media Brands, LLC and respective content providers to this website may receive compensation for some links to products and services on this website.
Larger TVs of 65-inches or more can typically cost closer to $1,000, but this 75-inch Toshiba 4K Fire TV is only $530 right now, a whopping 34% off, on Amazon. It boasts over 4,800 five-star ratings on Amazon and delivers an immersive, big-screen experience in a simple design.
75-inch Toshiba 4K Fire TV Smart, $530 (was $800) at
Amazon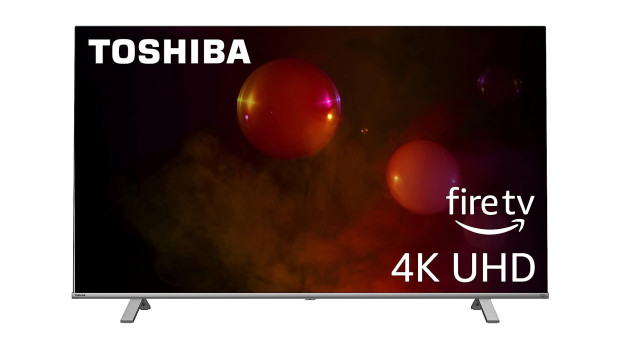 This television might have first hit the scene in 2021, but in 2023, it's still a popular pick on Amazon. It's a 75-inch picture (measured diagonally) powered by a Direct-Lit backlighting system, which amounts to an entry-level LED product. The visuals here won't be as immersive or bright as a Full LED, mini LED, or even an OLED TV, but it should deliver a dependable picture.
Toshiba even managed to pack in support for HDR and HDR 10 as well as Dolby Vision and HLG, which should further increase the viewing experience. If you're streaming a film or show supporting Dolby Vision or HDR, the TV can read the data to present the visuals better.
Since it's a 4K TV, you'll get four times the resolution of traditional 1080p HD, and via the built-in processor, this 75-inch TV will upscale content to ensure it looks its best. It's a standard 60Hz refresh rate that can scale up to an adaptive 120Hz motion rate for clarity when gaming or watching sports. You also get four HDMI ports on the box for connecting other devices, be it a streaming stick or a game console. You won't be required to buy another device, however, as the Fire TV Stick's brains are basically built-into the interface.
Streaming services like Hulu, Disney+, Apple TV+, Prime Video, and YouTube, among many others, have applications available with Fire TV. You can use the included controller to navigate the interface or hold down the microphone button to use Alexa. You can ask Amazon's assistant to do a range of tasks, like stream a specific film or control your smart home.
While this entry-level LED TV likely won't deliver the same viewing experience as a Samsung or a Sony, it does deliver some unbeatable value. A 75-inch Fire TV at a massive $270 off is an exceptional deal, bringing the total cost to just $530. You'll undoubtedly get a good picture with many smarts for the price.
Prices are accurate and items in stock at time of publishing.
window.fbAsyncInit = function () {
FB.init({
appId: "348030695626645",
xfbml: true,
version: "v2.9",
});
FB.AppEvents.logPageView();
};
(function (d, s, id) {
var js,
fjs = d.getElementsByTagName(s)[0];
if (d.getElementById(id)) {
return;
}
js = d.createElement(s);
js.id = id;
js.src =
"//connect.facebook.net/en_US/sdk.js#xfbml=1&version=v2.9&appId=348030695626645";
fjs.parentNode.insertBefore(js, fjs);
})(document, "script", "facebook-jssdk");