The sci-fi movie selection on Amazon Prime isn't what it used to be, but the selections it does have are all over the map—classic sci-fi from the 1970s and '80s, recent blockbusters, indie gems—and representative of such a dearth of quality, buttressed by butt-loads of low-budget B-movies, that browsing for the good stuff is more than difficult. We've dug through pages and pages of free sci-fi offerings for Amazon Prime members and found a handful worth your time, from hilarious satires to graphically violent satires, from iconic, controversial picks to a few from as recently as last year. And also, you can watch The Tomorrow War if you feel really inclined.
You may also want to consult the following, sci-fi centric lists:
The 100 best sci-fi movies of all time
The 100 best sci-fi TV shows of all time
The best sci-fi movies on Netflix
The best sci-fi movies on HBO Max
The best sci-fi movies on Hulu
---
Here are the 20 best sci-fi movies streaming on Amazon Prime:
1. Robocop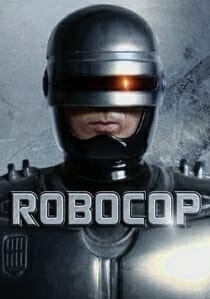 Year: 1987
Director: Paul Verhoeven
Stars: Peter Weller, Nancy Allen, Miguel Ferrer, Ronny Cox, Kurtwood Smith
Rating: R
Runtime: 103 minutes
Watch on Amazon Prime

Throughout the late-'70s and indulgent 1980s, "industry" went pejorative and Corporate America bleached white all but the most functional of blue collars. Broadly speaking, of course: Manufacturing was booming, but the homegrown "Big Three" automobile companies in Detroit—facing astronomical gas prices via the growth of OPEC, as well as increasing foreign competition and the decentralization of their labor force—resorted to drastic cost-cutting measures, investing in automation (which of course put thousands of people out of work, closing a number of plants) and moving facilities to "low-wage" countries (further decimating all hope for a secure assembly line job in the area). The impact of such a massive tectonic shift in the very foundation of the auto industry pushed aftershocks felt, of course, throughout the Rust Belt and the Midwest—but for Detroit, whose essence seemed composed almost wholly of exhaust fumes, the change left the city in an ever-present state of decay. And so, though it was filmed in Pittsburgh and around Texas, Detroit is the only logical city for a Robocop to inhabit. A practically peerless, putrid, brash concoction of social consciousness, ultra-violence and existential curiosity, Paul Verhoeven's first Hollywood feature made its tenor clear: A new industrial revolution must take place not within the ranks of the unions or inside board rooms, but within the self. By 1987, much of the city was already in complete disarray, the closing of Michigan Central Station—and the admission that Detroit was no longer a vital hub of commerce—barely a year away, but its role as poster child for the Downfall of Western Civilization had yet to gain any real traction. Verhoeven screamed this notion alive. He made Detroit's decay tactile, visceral and immeasurably loud, limning it in ideas about the limits of human identity and the hilarity of consumer culture. As Verhoeven passed a Christ-like cyborg—a true melding of man and savior—through the crumbling post-apocalyptic fringes of a part of the world that once held so much prosperity and hope, he wasn't pointing to the hellscape of future Detroit as the battlefield over which the working class will fight against the greedy 1%, but instead to the robot cop, to Murphy (Peter Weller), as the battlefield unto himself. How can any of us save a place like Detroit? In Robocop, it's a deeply personal matter. —Dom Sinacola
---
2. The Iron Giant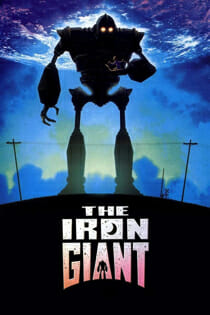 Year: 1999
Director: Brad Bird
Stars: Jennifer Anniston, Harry Connick Jr., Vin Diesel, James Gammon, Cloris Leachman, John Mahoney, Eli Marienthal, Christopher McDonald, M. Emmet Walsh
Rating: PG
Runtime: 87 minutes
Watch on Amazon Prime
Brad Bird's feature debut championed traditional hand-drawn art at a time when computer animation was gaining in popularity, released by studio folk who didn't realize just how special of a film they had on their hands, putting little to no marketing behind it. Luckily, The Iron Giant received its due recognition on home video. Set in the 1950s and drawing off of nuclear fears of the time—as well as Bird's personal tragedy regarding gun violence—The Iron Giant incorporates the hallmark of the era's science-fiction—a giant metal robot—into a touching coming-of-age story. Bird effortlessly moves between riotous comedy (such as young Hogarth's efforts to hide his enormous new robot friend from his mother), high-spun action and poignant moments of fear and friendship. —Jeremy Mathews

---
3. Nope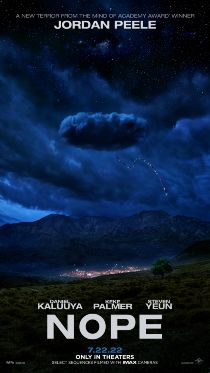 Year 2022
Director: Jordan Peele
Stars: Daniel Kaluuya, Keke Palmer, Steven Yeun
Rating: R
Runtime: 130 minutes
Watch on Amazon Prime
Among his most amusing directorial quirks, Jordan Peele appreciates the melodrama of a good biblical citation: 2019's killer doppelgänger vehicle Us tirelessly invokes Jeremiah 11:11 and his latest effort Nope opens with Nahum 3:6: "I will cast abominable filth upon you, make you vile, and make you a spectacle." It's that last clause which perfuses Nope, a shrewd, tactile yarn about a brother-sister rancher duo in pursuit of video evidence of a UFO circling their home. Though Peele routinely prods at the Hollywood machine and its spectacles, here he unlades it all: Image-making as brutality, catharsis, posterity, surveillance, homage, indulgence. Six months after a freak accident killed their father, siblings OJ (Daniel Kaluuya) and Emerald Haywood (Keke Palmer) have taken over "Haywood's Hollywood Horses," Agua Dulce's intergenerational horse-wrangling business which specializes in equine showbiz. Working in beautiful contradistinction, Kaluuya plays OJ as stoic and reticent—the true older brother type—and Palmer's Emerald is prodigiously magnetic and full of puckish chatter. After a series of strange happenings—blackouts, agitated horses, pained noises emanating from the canyons—OJ observes what appears to be a flying saucer gliding through the inky night sky. The next day he spots a cloud that doesn't move an inch. Suspecting a connection between the saucer and their father's death, OJ and Emerald enlist the help of gawky, unstable techie Angel (Brandon Perea) and renowned documentarian Antlers Holst (Michael Wincott, excellent rasp) to obtain proof of the UFO, with intent to profit off of the footage. In a sense, the Haywoods want to make a movie. This is Peele rescripting the American film canon, asking what it means to engage with such an exclusionary medium. Shot in IMAX by Dutch cinematographer Hoyte Van Hoytema—a Christopher Nolan regular, responsible for the slick, beautified landscapes of Interstellar, Dunkirk and Tenet—Nope configures a world of sweeping, dusty landscapes and bloodied dwellings. Steven Spielberg is less a point of reference here than he is the emotional roadmap. The Close Encounters of the Third Kind comparisons write themselves, but notionally, Nope is more like Jaws in the sky. Parts neo-Western, family drama, sci-fi and cosmic horror, Nope sees Peele balance more throughlines here than ever before: Aliens, Muybridge revisionism, undigested grief, chimpanzee carnage, a punctilious documentarian chasing the impossible. Nope is indisputably one for Peele—a spectacle in the least derogatory sense; a palimpsest of nostalgic blockbusters and Peele's deservedly self-assured vision of Hollywood's future; but mostly, a solution to and an undertaking of modernity.—Saffron Maeve
---
4. Ghost in the Shell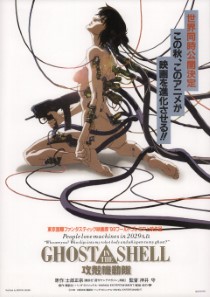 Year: 1995
Director: Mamoru Oshii
Stars: Atsuko Tanaka, Akio Otsuka, Iemasa Kayumi
Rating: NA
Runtime: 82 minutes
Watch on Amazon Prime
It's difficult to overstate how enormous of an influence Ghost in the Shell exerts over not only the cultural and aesthetic evolution of Japanese animation, but over the shape of science-fiction cinema as a whole in the 21st century. Adapted from Masamune Shirow's original 1989 manga, the film is set in the mid-21st century, a world populated by cyborgs in artificial prosthetic bodies, in the fictional Japanese metropolis of Niihama. Ghost in the Shell follows the story of Major Motoko Kusanagi, the commander of a domestic special ops task-force known as Public Security Section 9, who begins to question the nature of her own humanity surrounded by a world of artificiality. When Motoko and her team are assigned to apprehend the mysterious Puppet Master, an elusive hacker thought to be one of the most dangerous criminals on the planet, they are set chasing after a series of crimes perpetrated by the Puppet Master's unwitting pawns before the seemingly unrelated events coalesce into a pattern that circles back to one person: the Major herself. When Ghost in the Shell first premiered in Japan, it was greeted as nothing short of a tour de force that would later go on to amass an immense cult following when it was released in the states. The film garnered the praise of directors such as James Cameron and the Wachowski siblings (whose late-century cyberpunk classic The Matrix is philosophically indebted to the trail blazed by Oshii's precedent). Everything about Ghost in the Shell shouts polish and depth, from the ramshackle markets and claustrophobic corridors inspired by the likeness of Kowloon Walled City to the sound design, evident from Kenji Kawai's sorrowful score to the sheer concussive punch of every bullet firing across the screen. Oshii took Shirow's source material and arguably surpassed it, taking an already heady science-fiction action drama and transforming it into a proto-kurzweilian fable about the dawn of machine intelligence. Ghost in the Shell is more than a cornerstone of cyberpunk fiction: It's more essential in this day and age than it was over twenty-years ago. A story about what it means to craft one's self in the digital age, a time where the concept of truth feels as mercurial as the net is vast and infinite.—Toussaint Egan
---
5. Galaxy Quest
Year: 1999
Director: Dean Parisot
Stars: Tim Allen, Sigourney Weaver, Alan Rickman, Tony Shalhoub, Sam Rockwell
Rating: PG
Runtime: 104 minutes
Watch on Amazon Prime
J.J. Abrams once called this Star Trek parody one of the best Trek movies ever. He's not wrong. Galaxy Quest is less interested in making fun of Star Trek than in making fun of Star Trek culture, from obsessive fans to goofy special effects to actors who alternately hate, resent or are proud of their time on the show. It also features one of Alan Rickman's greatest roles, in case you're one of those kids who only knows him from his Harry Potter stuff and wants to take in the full measure of the man.—Alan Byrd
---
6. Interstellar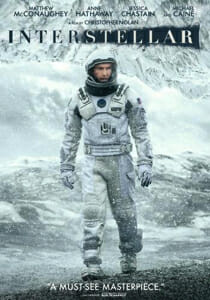 Year: 2014
Director: Christopher Nolan
Stars: Matthew McConaughey, Anne Hathaway, Jessica Chastain, Michael Caine, Bill Irwin, Ellen Burstyn
Rating: PG-13
Runtime: 169 minutes
Watch on Amazon Prime
Whether he's making superhero movies or blockbuster puzzle boxes, Christopher Nolan doesn't usually bandy with emotion. But Interstellar is a nearly three-hour ode to the interconnecting power of love. It's also his personal attempt at doing in 2014 what Stanley Kubrick did in 1968 with 2001: A Space Odyssey, less of an ode or homage than a challenge to Kubrick's highly polarizing contribution to cinematic canon. Interstellar wants to uplift us with its visceral strengths, weaving a myth about the great American spirit of invention gone dormant. It's an ambitious paean to ambition itself. The film begins in a not-too-distant future, where drought, blight and dust storms have battered the world down into a regressively agrarian society. Textbooks cite the Apollo missions as hoaxes, and children are groomed to be farmers rather than engineers. This is a world where hope is dead, where spaceships sit on shelves collecting dust, and which former NASA pilot Cooper (Matthew McConaughey) bristles against. He's long resigned to his fate but still despondent over mankind's failure to think beyond its galactic borders. But then Cooper falls in with a troop of underground NASA scientists, led by Professor Brand (Michael Caine), who plan on sending a small team through a wormhole to explore three potentially habitable planets and ostensibly secure the human race's continued survival. But the film succeeds more as a visual tour of the cosmos than as an actual story. The rah-rah optimism of the film's pro-NASA stance is stirring, and on some level that tribute to human endeavor keeps the entire yarn afloat. But no amount of scientific positivism can offset the weight of poetic repetition and platitudes about love. —Andy Crump
---
7. The Vast of Night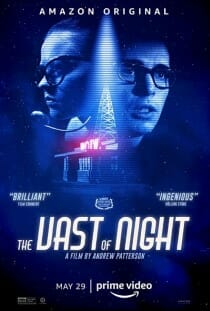 Year: 2019
Director: Andrew Patterson
Starring: Sierra McCormick, Jake Horowitz
Rating: PG-13
Runtime: 89 minutes
Watch on Amazon Prime

The Vast of Night is the kind of sci-fi film that seeps into your deep memory and feels like something you heard on the news, observed in a dream, or were told in a bar. Director Andrew Patterson's small-town hymn to analog and aliens is built from long, talky takes and quick-cut sequences of manipulating technology. Effectively a '50s two-hander between audio enthusiasts (Sierra McCormick and Jake Horowitz playing a switchboard operator and disc jockey, respectively) the film is a quilted fable of story layers, anecdotes and conversations stacking and interweaving warmth before yanking off the covers. The effectiveness of the dusty locale and its inhabitants, forged from a high school basketball game and one-sided phone conversations (the latter of which are perfect examples of McCormick's confident performance and writers James Montague and Craig W. Sanger's sharp script), only makes its inevitable UFO-in-the-desert destination even better. Comfort and friendship drop in with an easy swagger and a torrent of words, which makes the sensory silence (quieting down to focus on a frequency or dropping out the visuals to focus on a single, mysterious radio caller) almost holy. It's mythology at its finest, an origin story that makes extraterrestrial obsession seem as natural and as part of our curious lives as its many social snapshots. The beautiful ode to all things that go [UNINTELLIGIBLE BUZZING] in the night is an indie inspiration to future Fox Mulders everywhere. —Jacob Oller
---
8. Attack the Block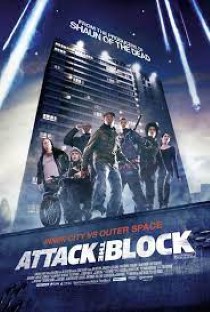 Year: 2011
Director: Joe Cornish
Stars: John Boyega, Jodie Whittaker, Alex Esmail, Franz Drameh, Luke Treadaway, Nick Frost
Rating: R
Runtime: 88 minutes
Watch on Amazon Prime

Written and directed by Joe Cornish, the sci-fi action comedy centers on a gang of teenage thugs—particularly their disgruntled leader, Moses, remarkably underplayed by a young John Boyega—and their housing project in South London. When the defiant juveniles take their crime to a new level and mug an innocent nurse (a delightful Jodie Whittaker), they immediately find themselves plagued by alien invaders. These hideous creatures, with their jet black fur and glowing blue fangs, want nothing more than to destroy the boys and their tower block. In the spirit of Spielberg–even more so than J.J. Abrams' Spielberg ode of the same year, Super 8–Cornish uses alien beings as the catalyst to bring supernatural redemption to a person and a community. He focuses specifically on London's socioeconomic bottom half and the turmoil surrounding them, exposing the lies that society's youth buy into that prolong cultural discontinuity. A comical scene, in which Moses tries to make sense of the aliens while giving excuses for his criminal behavior, highlights this cleverly—he doesn't just blame the government for violence and drugs in his neighborhood, he blames the government for the whole alien invasion. Cornish, however, doesn't simply confront this hopeless attitude, he points toward hope–most vividly in the way Moses battles the aliens, his fight rapt with symbolic implications. Though he tries to escape the beasts through running and avoidance, he realizes he must inevitably face them, but not on his own. In Attack the Block, the alien invasion becomes one giant metaphor for the darkness that binds Moses, his friends and his block–a threat that can only be countered with the pivotal power of community. —Maryann Koopman Kelly
---
9. Men in Black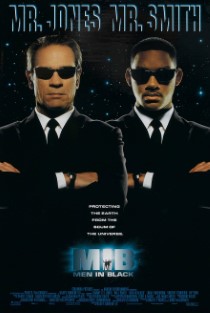 Year: 1997
Director: Barry Sonnenfeld
Stars: Will Smith, Tommy Lee Jones, Linda Fiorentino, Vincent D'Onofrio, Rip Torn
Rating: PG-13
Runtime: 98 minutes
Watch on HBO Max
Tommy Lee Jones and Will Smith have tremendous chemistry in what's essentially a buddy cop movie. But if the cocky, young cop starts out sure of himself, Jones's Agent K quickly brings him down to an alien-infested Earth. Delightful in tone, director Barry Sonnenfeld plays into all our wildest conspiracy dreams, turning our everyday world into a secret refuge for an imaginative variety of creatures from planets beyond. The plot might be a little slim, but the alien vignettes along the way are clever enough to carry the weight. —Josh Jackson

---
10. The World's End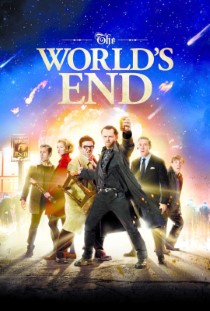 Year: 2013
Director: Edgar Wright
Stars: Simon Pegg, Nick Frost, Paddy Considine, Martin Freeman, Rosamund Pike, Eddie Marsan
Rating: R
Runtime: 109 minutes
Watch on HBO Max
The third installment in Edgar Wright and Simon Pegg's Cornetto trilogy is a clever extension of the signature style the director and star/writing partners established with Shaun of the Dead and Hot Fuzz, and an expansion on their themes of friendship, nostalgia and standing up to the Man. Where their 2004 zombie comedy riffed on monster movies and their 2007 actioner took on buddy cop flicks, The World's End mines sci-fi—specifically, a particular brand of mid-20th-century social science fiction—to explore dichotomous trends in the yearning to recapture youth and the homogenization of culture. Pegg is ferociously good here as Gary King, a bloke whose search for a good time hasn't let up since secondary school—and he looks it. Still clad in the black duster, aviator shades and dyed-black hair that were his uniform as a teenager, he's manically good-natured and wickedly funny, always at the ready with a groan-inducing pun—the kind of pal who was fun to hang out with in high school but is exhausting now that you've outgrown his shenanigans. —Annlee Ellingson
---
11. The War of the Worlds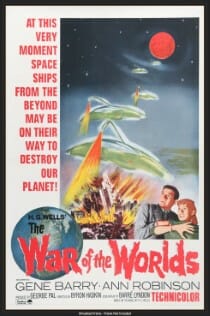 Year: 1953
Director: Byron Haskin
Stars: Gene Barry, Ann Robinson
Rating: G
Runtime: 85 minutes
Watch on Amazon Prime
The 1953 adaptation of H.G. Wells' classic The War of the Worlds was a monumental undertaking for the still-young sci-fi genre in Hollywood, notable for both its expansive budget and groundbreaking FX work, although the quality of its miniatures suffered in subsequent digital transfers, which made sights such as the strings holding up Martian war machines more visible. Regardless, this was an alien invasion story presented in a way that one hadn't been before: With an "A" budget, recognizable actors and a palpable sense of gravitas, playing more like a war drama than a true horror film. It became the gold standard against which lower-budget entries such as Invaders From Mars would be judged, even though Invaders was rushed into theaters before War of the Worlds to claim the title of the first colorized "flying saucer" film. This is the one, though, that went on to live in the memories of a generation. —Jim Vorel
---
12. Europa Report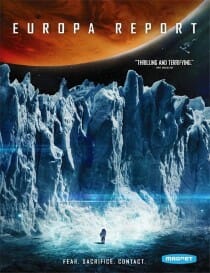 Year: 2013
Director: Sebastian Cordero
Stars: Christian Camargo, Anamaria Marinca, Michael Nyqvist, Daniel Wu, Karolina Wydra, Sharlto Copley
Rating: PG-13
Runtime: 89 minutes
Watch on Amazon Prime

With echoes of 2001, director Sebastian Cordero's innovatively structured thriller enthralls with not only its apparent scientific accuracy, but the passion it portrays among a class of people historically characterized by pocket protectors, taped eyewear and social awkwardness. Aboard the Europa One (Kubrick's vessel was called the Discovery One), the six scientists bound for Europa, one of Jupiter's moons (HAL and his crew were headed for the gas giant itself), are living, breathing human beings, with families and fears, ambition and emotions. They're also just smarter than most of us and on a mission more significant than any of us will experience ever in our lives. The stakes are high in this mock doc/faux found-footage mystery, in which the privately funded space exploration company Europa Ventures issues a documentary on the fate of its first manned mission to investigate the possibility of alien life within our solar system. The sacrifices may be steep, but Europa Report is convinced—and wants to convince you—that a certain amount of horror is likely what it will take to explore such frontiers. —Annlee Ellingson
---
13. M3GAN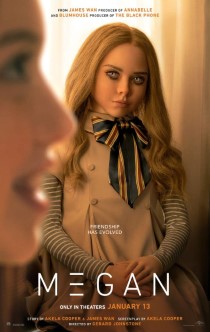 Year: 2023
Director: Gerard Johnstone
Stars: Allison Williams, Violet McGraw, Amie Donald, Jenna Davis, Ronny Chieng, Brian Jordan Alvarez, Jen Van Epps
Rating: PG-13
Runtime: 102 minutes
Watch on Amazon Prime
Long before M3GAN hit theaters, the film's titular cyborg, who can best be described as a mashup of Renesmee from Twilight (if she was a raging sadist) and a yassified Baby Annette, became a viral sensation. Somewhat miraculously, M3GAN manages to live up to its spectacular advertising. (Though in retrospect, this new triumph in horror camp shouldn't be that surprising, as Malignant's James Wan and Akela Cooper, AKA the people who gave us this scene just last year, co-wrote the film). After losing both of her parents in a tragic car accident, young Cady (Violet McGraw) moves in with her aunt Gemma (Allison Williams), a toy company roboticist partially responsible for PurrpetualPetz: Stuffed animals that have human-like teeth and, among other things, take shits. Realizing she is not equipped to care for a youngster, Gemma makes it her mission to finish building M3GAN—or Model 3 Generative Android—a robot designed specifically to be your child's most loyal BFF. Soon enough, M3GAN starts to take her "protect Cady at all costs" programming a little too literally (who could've seen that coming?), resulting in a string of darkly comical sequences of violence—one of which may or may not involve the talking doll zealously wielding a nail gun. M3GAN is more than just another solid entry into this horror subgenre. I might even be so bold as to say that it is horror's newest camp classic, and M3GAN one of the greatest horror icons of recent years. M3GAN, somewhat miraculously, perfects the horror-comedy tone, able to consistently toe the line of too silly—from M3GAN's passive-aggressive, condescending and sickly sweet timbre (nailed by Jenna Davis, the "penny nickel dime" girl from Vine), to her raggedy blonde wig—without ever actually crossing it. M3GAN's most impressive feat, at the end of the day, is that it gives us cinematic sickos exactly what we want without sacrificing greatness in the process. And yes, what we want is a breakdancing, murderous doll. Is that such a crime?—Aurora Amidon
---
14. Highlander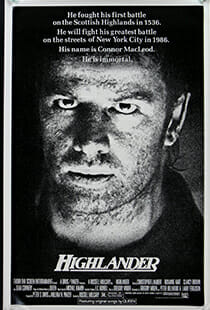 Year: 1986
Director: Russell Mulcahy
Stars: Christopher Lambert, Sean Connery, Roxanne Hart, Clancy Brown
Rating: R
Runtime: 111 minutes
Watch on Amazon Prime

The premise is delightfully bananas: In this world, a small group of people who are immortal wander the Earth in competition for a vague "Prize." Unable to have children, they regenerate all bodily harm unless decapitated—whereupon some weird electromagnetic life force is transferred to the victor of the duel in an explosive phenomenon known as "The Quickening." With each Quickening, an immortal gains the knowledge and power of his defeated foe. The last non-headless man left standing at the end of "The Game" claims "The Prize." Immortals have a weird ability to sense one another when they get closer—probably because there would be no other way to easily identify one another otherwise. The only specific prohibition on their bloody bouts seems to be that fighting on holy ground of any kind is forbidden. (Why? Who enforces it if somebody violates the rule, the Immortal Police?) This seems pretty promising: Fighters who grow in strength and power, exponentially, with each successive victory, until only the two absolute baddest remain. They'd probably be throwing Kamehameha waves and kicking over buildings after thousands of years of accumulated power, right? Nope, it just comes down to two dudes with swords clanging away at one another in a poorly lit, abandoned, vaguely industrial setting. Despite this, the film has endured with a gritty story, Sean Connery goofing around, an unforgettably crass and vile villain and Queen on the soundtrack. Australian director Russell Mulcahy's background was in music videos—Highlander has that same kind of stylized, operatic, overblown nature. —Kenneth Lowe
---
15. The Running Man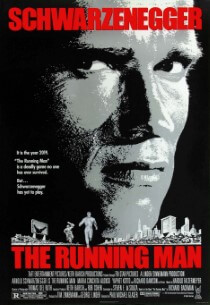 Year: 1987
Director: Paul Michael Glaser
Stars: Arnold Schwarzenegger, Maria Conchita Alonso, Yaphet Kotto, Richard Dawson
Rating: R
Runtime: 101 minutes
Watch on Amazon Prime
While The Running Man lacks the sophistication and dynamic pacing of a certain other Schwarzenegger-starring/dystopian sci-fi/satire film, its entertainment value is nothing to sneer at. Adapted loosely from a Stephen King novel of the same name, The Running Man depicts a future where everyone dresses like they're at an '80s-themed Halloween party and citizens regularly tune into a show where convicted criminals must fight to survive against both their fellow contestants and professional killers. Insert Hunger Games reference here. Between the absurd production design and Paula Abdul-choreographed dance sequences, any attempted satire is all but buried in a thick layer of silly. Still, in terms of sheer fun value, this film is quite the gem. —Mark Rozeman
---
16. Gamera, the Giant Monster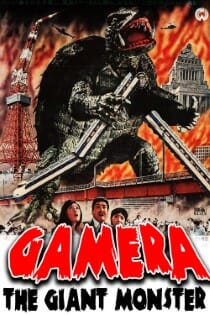 Year: 1965
Director: Noriaki Yuasa
Stars: Eiji Funakoshi, Michiko Sugata, Harumi Kiritachi, Junichiro Yamashita
Rating: NR
Runtime: 78 minutes
Watch on Amazon Prime
The initial introduction of the giant, mutated, fire-breathing turtle known and loved by folks everywhere, Gamera, the Giant Monster was movie studio Daiei Film's obvious answer to the success of Godzilla, but it's also the genesis point for a character that would go on to become almost equally famous, at least in Japan. Gamera may forever dwell in Godzilla's shadow globally, but where Big G is treated with a certain level of pomp, circumstances and even dramatic gravity—particular the original Gojira and modern entries like Shin Godzilla—the Gamera series has always had a much more lighthearted tone, starting with the monster himself. Unlike the often rampaging Godzilla, Gamera has always been a more tender breed of kaiju, a valorous defender of Earth in almost all installments who is amusingly referred to as a "friend to all children." Here, in his very first installment, Gamera is still something of a threat that needs to be contained, but he's already found himself a little boy as a friend—the first of many to come. —Jim Vorel
---
17. Day of the Animals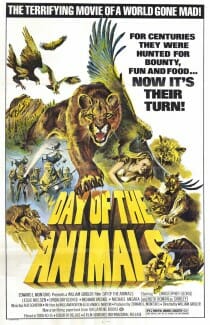 Year: 1977
Director: William Girdler
Stars: Leslie Nielsen, Christopher George, Lynda Day George
Rating: PG
Runtime: 97 minutes
Watch on Amazon Prime
After Jaws became the first true summer blockbuster in 1975, "animals attack" films proliferated. 1976's Grizzly was the first big success in the "Jaws on land" variants, and director William Girdler followed it up with Day of the Animals, which could probably be considered the logical zenith of the "nature attacks" premise—an all-out war of all animals vs. all humans. As in, solar radiation somehow causes every animal above 5,000 feet of elevation to go insane, attacking anything in their path. A group of hikers are menaced by all kinds of animals—mountain lions, bears, birds of prey and even pet dogs. Leslie Nielsen, five years before his career-altering comedic turn in Airplane!, appears as the primary human villain, channeling a bit of his Creepshow character from the early '80s. It's sort of an ugly film to watch today, but if you've always wanted to see a shirtless Leslie Nielsen fight a bear, it's really your only option. Regardless, of all the films on this list, it's the one I'd most like to see remade with a big budget. I want to see that movie, and all the killer koalas it would surely entail. —Jim Vorel
---
18. C.H.U.D.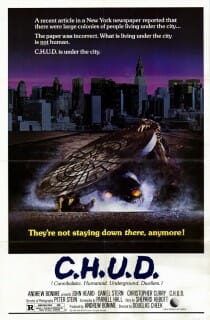 Year: 1984
Director: Douglas Cheek
Stars: John Heard, Daniel Stern, Christopher Curry
Rating: R
Runtime: 88 minutes
Watch on Amazon Prime
It stands for "Cannibalistic Humanoid Underground Dwellers," if you were wondering. C.H.U.D. is a product of its time, the sort of mid-'70s/early '80s horror film that sets itself in street-level New York City when the Big Apple was renowned as the crime-ridden cesspit of the nation. Cynical as hell, it imagines a race of cannibal monsters created by toxic waste dumped into the New York sewers, where it transforms the local homeless population. In execution, it's sort of like a Troma film that has a larger budget, maintaining a grimy and tasteless aesthetic that nevertheless has a memorable quality that is hard to define. I think the effects are a part of that—quite icky, but fleeting. I look at this scene of a C.H.U.D. being beheaded and can't decide if it's terrible, awesome or terribly awesome. C.H.U.D. has lived an entire second life as comedy material, with references ranging from The Simpsons to an April Fools prank from the Criterion Collection. — Jim Vorel
---
19. The Tomorrow War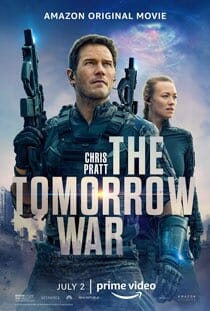 Year: 2021
Director: Chris McKay
Stars: Chris Pratt, Yvonne Strahovski, J. K. Simmons, Betty Gilpin, Sam Richardson
Rating: PG-13
Runtime: 138 minutes
Watch on Amazon Prime
Within a bloated 138 minutes, director Chris McKay and writer Zach Dean attempt to cram together a coherent story involving time travel, humanity-eating aliens, forced conscription, cute science moppets, father/son & father/daughter estrangement, over-the-top action set pieces, comedy and a Vietnam allegory. You should be tired just reading that. And worse, they don't land any of it well. Unfortunately, The Tomorrow War isn't allowed to be the dumb, "just go with it" summer spectacle it should have been, a la Independence Day. Instead, McKay and Dean force it to be a self-aware and "smart" time-travel drama, with feelings big enough to crack generational war trauma issues, among lots of things that go "boom!" and "pew, pew, pew." The story itself is too convoluted and speciously conceived to try to dissect without making your brain scamper to its safe place. All you need to know is that in 2022, soldiers from 30 years in our future will dramatically appear in the middle of a World Cup soccer match to tell humanity that in 11 months, aliens will overtake the planet in an extinction level event. Thus, all able-bodied people from 2022 need to prepare to go with them into the future to save our collective existence. With minimal debate, every nation creates a forced conscription draft—which yes, is kinda fascist—for a seven-day tour of duty. Only 30% ever come back, but everyone is now considered a hero and you're saving your kids and grandkids! No one really talks about those who don't have kids, or who aren't patriotically predisposed to accept being cannon fodder, but that's a silly quibble, right? Because Chris Pratt as Dan Forester is the poster guy example for what everyone should be in this story: Handsome, a Gulf War vet, a science teacher and perfect dad of a science-obsessed six-year-old daughter. To be nice, the film looks great. The aliens are intense and threatening but they're ciphers in terms of being anything more than endless stomachs. And the cast really tries. But to quote Sam Richardson's nerdy character Charlie when he's forced to unload a clip into the aliens for the first time, his spontaneously screamed string of "Shit, shit, shit…" really sums this all up. —Tara Bennett
---
20. Sharknado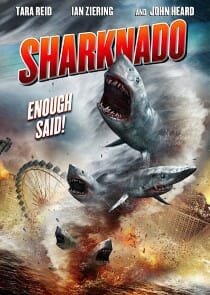 Year: 2014
Director: Anthony C. Ferrante
Stars: Ian Ziering, Tara Reid, Cassie Scerbo, John Heard
Rating: NR
Runtime: 85 minutes
Watch on Amazon Prime
B-movie geeks and bad movie fans are not kind to the original Sharknado, and I don't think that's entirely fair. It gets flak from that audience for being "purposefully bad," but it is possible to make an entertainingly goofy film in this way … it's just pretty rare. Now dragged down by an increasingly forced run of sequels, all of which I've reviewed for Paste because I'm a crazy person, it's easy to lose sight of how slapdash (and thus amusing) the first film was. There's absolutely no budget behind Sharknado, which makes the gaffes introduced by a tight shooting schedule all the more apparent and hilarious. The sky goes from dark to sunny in between shots in the same scene. The film idles in place for 20 minutes while trying to get kids out of a school bus, just to shamelessly pad itself out to "feature length." Tara Reid tries to get dialog to come out of her mouth, and fails spectacularly. In short: There's fun stuff here. Don't be a bad movie hipster; embrace the original Sharknado. The sequels, feel free to ignore. —Jim Vorel
Source link