Posted in: Card Games, Games, Tabletop | Tagged: Exploding Kittens, Exploding Kittens: Good vs. Evil
---
A proper physical card game of Exploding Kittens: Good vs. Evil will be released alongside the new Netflix series happening soon.
---
Tabletop publisher Exploding Kittens revealed today that they will be releasing a physical card game version of Exploding Kittens: Good vs. Evil. The game will be based on the franchise's upcoming adult animated Netflix series, as this will be a new standalone version of the original card game, designed within the fictional world of the TV series. Basically, this is them cashing in on the series, and we can't blame them for doing so, as the card game has become so popular over the years. Why not crank one more out tied to a TV show? We got more info about the game below, as well as a couple of quotes from the team about this version.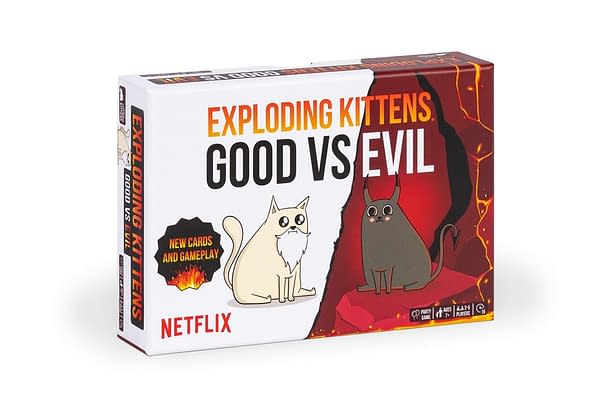 "Exploding Kittens: Good vs. Evil offers the same gameplay – a kitty-powered version of Russian roulette – that fans know and love from the flagship card game. However, the new title flips the script by bringing fans into the narrative world of the show, introducing new character cards from the upcoming series. These include a Godcat card, deemed "the most powerful card ever created" in the E.K. universe, and Devilcat, which causes a player to immediately explode without the protection of a defuse card. The game also offers four new card powers with clever thematic nods to the show, including "Armageddon" and "Raising Heck" cards that each feature new gameplay mechanics to provide fans with a fresh experience."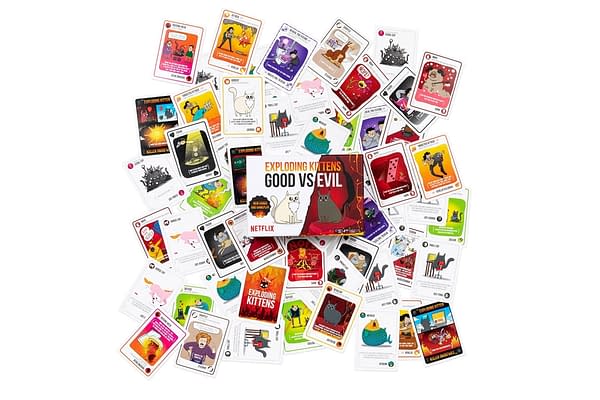 "Adapting Exploding Kittens into a TV show has been one of our most satisfying creative endeavors," said Elan Lee, Co-Creator and CEO of Exploding Kittens. "Not only will fans of the upcoming show get to see their new favorite characters on all the Good vs. Evil cards, but new and existing fans will get an exciting gameplay experience with a new game mechanic that pits players against each other in a battle of wits to compete for the most powerful card in the game!"
"Creating the Exploding Kittens series with Netflix has been a dream come true," said Matthew Inman, Exploding Kittens' Chief Creative Officer and Creator of The Oatmeal. "Good vs. Evil allowed us to give fans a first look into what the show has in store, and we hope they have just as much fun playing the game as we had creating it."
---
Stay up-to-date and support the site by following Bleeding Cool on Google News today!