Netflix has offered the first look at a young Prince William and Kate Middleton in the new season of The Crown, which inches closer towards the present day.
The first images from the sixth and final season feature William and Kate holding hands, and are thought to be a depiction of the early days of their courtship as students at the University of St Andrews in Scotland.
Two other images show Kate looking up in a classroom, and William sitting on a brocade sofa in front of framed images, which suggest it may be someone's home. It is expected that the two characters will play a prominent role in the latest instalment.
William has appeared in the series as a child, but the new series will depict him as an adult for the first time, played by newcomer Ed McVey. Kate will appear for the first time, and will be played by Meg Bellamy.
The Crown has become progressively more controversial as it has depicted more recent history, with some viewers complaining about its use of artistic licence.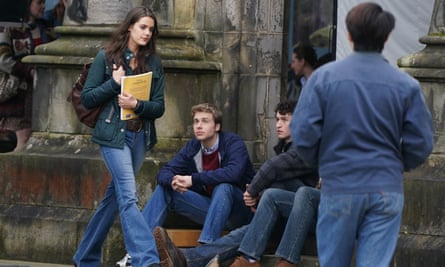 This included Dame Judi Dench, who wrote a letter in the Times, which said "the closer the drama comes to our present times, the more freely it seems willing to blur the lines between historical accuracy and crude sensationalism".
Dench added "significant number of viewers, particularly overseas, may take its version of history as being wholly true".
Ahead of the fifth season, Netflix added a label underneath the trailer for the new episodes and on the show's Twitter page, as well as on the Netflix site itself, clarifying that the series is a "fictional dramatisation".
Netflix has yet to confirm when The Crown season six will premiere, but if it follows the same pattern as earlier seasons it may launch in November 2023.
Source link